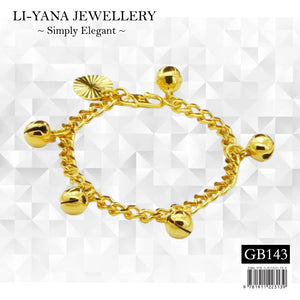 Product Description

Li-yana KOREAN Bell Charm (A) 24K Gold Bracelet
The bracelet has medium curb chain size with jingle bells attach to its. This design suites for young teenagers and kids. 
Expertly crafted in sterling silver and heavily plated in rich 24K gold. Bracelet measures 21 cm long and 3 mm wide.

Brand: Li-yana Jewellery
Material: Original 24K Gold Plated
Length: 21cm
Width: 3mm

Elegant display box is included

WHAT'S IN THE BOX:
• 1 x Korean 24K Gold Plated Bracelet
• 1 x Elegant Display Box

HOW TO MEASURE WRIST SIZE:
1. Wrap a tape or a piece of paper around the wrist wearing the bracelet.
2. Mark the area where the two ends meet, make sure the tape comfortable tight around wrist when marking.
3. Measure the tape or paper with a ruler

JEWELLERY CARE:
• Avoid Contact with Perfumes or Chemicals Substances to Prevent Colour Fade.
• Remove jewellery when showering or bathing. This is to Prevent Any Residue That Might Potentially Dulls the Shine of Your Stone.
• Store Your Jewellery in Box When You Are Not Wearing It.

GENERAL JEWELLERY CLEANING:
• Using a soft, lint free cloth is an effective way to keep silver, gold and rose gold jewellery looking shiny and lustrous. Do not use tissue paper or paper towels to clean metal as they can cause scratching.
• Jewellery-polishing cloth is a great tool to make your jewellery shine again if the pieces have become dull. However, it will not remove scratches.